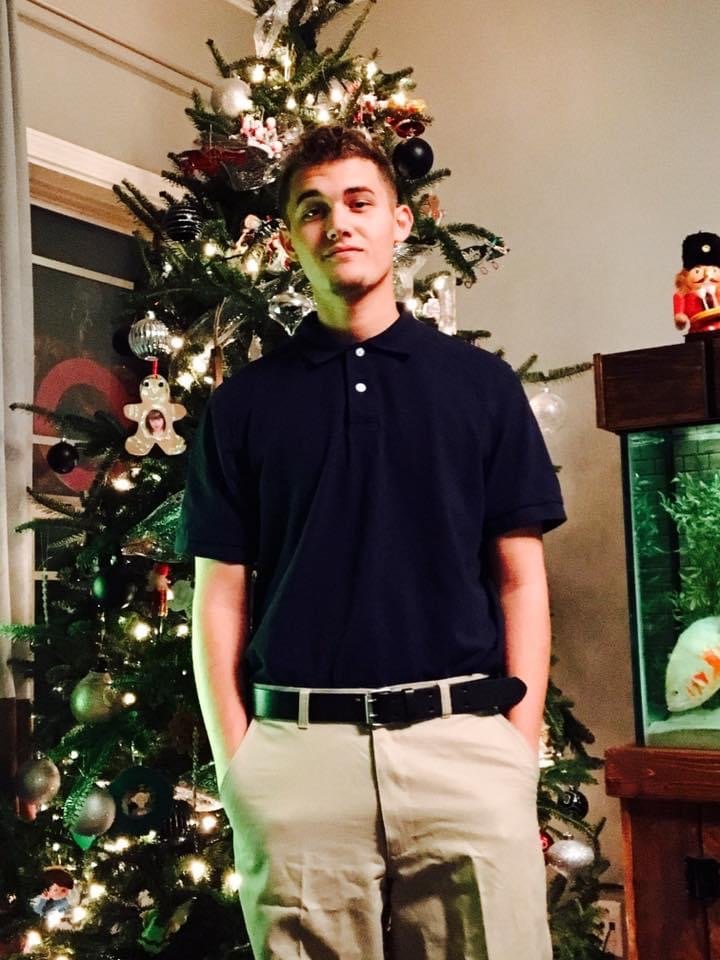 Obituary of Charles Nathaniel Johnson
Charles Nathaniel Johnson Saying farewell to our son Nathan is the hardest thing I have ever had to do. Words could never truly describe the sorrow and emptiness that has come from losing my precious baby boy, so I will share one of the happiest moments I shared with him. My son, Charles Nathaniel Johnson, was born on October 8, 1999. He entered this world on my birthday, and I always told him he was the best birthday gift I had ever received. From the moment he was born my fear of losing him began. Because of complications halfway through my labor, I was suddenly told that I needed an emergency C-section because Nathan was in distress. I remember being overwhelmed with terror as they rushed me into the OR and the seriousness of the situation became brutally apparent on the medical staff's eyes despite their efforts to reassure me with their words that "everything will be fine." I can clearly remember desperately praying to God to take me if someone had to go, but to please let Nathan survive. As soon as he was delivered, he was rushed to the NICU so quickly that I did not even have the opportunity to see him. I had never been more terrified in my entire life, and that fear never went away. I remember begging the nurses to take me to see my son, but I was under doctors' orders not to be taken out of the recovery room until I had regained feeling from the epidural enough to wiggle my toes. For the next hour I laid in my bed focusing on nothing except wiggling my toes to get to my son. That hour seemed to be more like a year. My anguish soon dissipated when my lifelong best friend, and my children's Godmother, April Earnheart, rushed in my room to tell me that Nathan was beautiful and healthy. I held onto every word as she described my precious baby boy's physical features. About an hour later I was taken up to my postpartum room and united with Nathan. I will never forget that feeling of relief combined with joy I felt holding him in my arms that night, and I vowed to him that I would never let anything happen to him again. I would never leave his side. Nathan, who everyone called "Nae Nae," grew into a sweet, loving, soft spoken child who we quickly noticed had been blessed with several gifts from God. He excelled in school, making straight A's effortlessly. He was able to skip a grade in middle school and had entered high school before his 13th birthday. By his sophomore year, he had received an offer reserved for upperclassmen, of a full academic scholarship to the University of Tennessee Knoxville. Feelings like the excitement we felt as we toured the large campus are the memories that I will treasure for the rest of my life. Unfortunately, the promise that I made to Nathan the day he was born is not always possible, but I never left his side. As a young mother you do not realize that no matter how hard you try, you can never truly protect your children from everything. I am comforted by my faith and the knowledge that my baby is now standing beside our Lord. He is happy and healthy, and most importantly, he is safe. Nathan was loved by so many, and although his life seems too short to all of those that love him, he will live on forever through each of us. His impact on this world is far from over! Nathan is survived by his Mother and Father, Raquel and Tommy Hayes, his brothers and sisters David Johnson, Jordan Hayes, Blake Hayes, Brenden Hayes, Brittany Hayes and Carmen Hayes. His 3-year-old daughter, Kensley Marie Johnson, his loving grandparents Esther Lande, Emma Creed, Charles Theodore Johnson, Marlene Pfeifer and Thomas Hayes Sr.. His uncles Javier, Eloy Escobar and Kenny Johnson, as well as 8 nieces and nephews and his biological father Alan Johnson. He is preceded by his maternal grandfather Saul Lande and his paternal uncle Justin Johnson. Along with myself, my family wishes to express our heartfelt thanks to all that has and continue to give their support, compassion, and love throughout this very difficult time. I know that Nathan would not want us to cry. Rather he would want the room to fill with laughter and wonderful memories we all shared with him. As we try to get through the coming years, please try to remember that. Thank you for loving my son and I will pray for peace in the hearts of everyone that loves him. Nathan, I will be with you again baby, but until then I will do all I can to keep my last promise to you. May you rest in peace. You will live on through all of us because legends never die. Jesus loves you and so do I! Love, Mom So do not fear, for I am with you; do not be dismayed, for I am your God. I will strengthen you and help you; I will uphold you with my righteous right hand. Isaiah 41:10 Visitation with the family will be held at Murfreesboro Funeral Home on Sunday, November 15, 2020 from 11am - 2pm with services to follow in the chapel. Interment will be at Evergreen Cemetery.
To send flowers to the family or plant a tree in memory of Charles Johnson, please visit Tribute Store
Visitation
11:00 am - 2:00 pm
Sunday, November 15, 2020
Murfreesboro Funeral Home
145 Innsbrooke Blvd
Murfreesboro, Tennessee, United States
615-896-2229
Services
2:00 pm - 3:00 pm
Sunday, November 15, 2020
Murfreesboro Funeral Home
145 Innsbrooke Blvd
Murfreesboro, Tennessee, United States
615-896-2229
Interment
3:30 pm - 4:00 pm
Sunday, November 15, 2020
Evergreen Cemetery
519 Greenland Dr.
Murfreesboro , Tennessee, United States
Share Your Memory of
Charles
About Us

Staff members of Murfreesboro Funeral Home & Cremation Services are caring and experienced professionals who understand that each family is unique and has personal requests and traditions. These requests and traditions are of utmost importance to our staff of licensed funeral directors.
Our Location

Murfreesboro Funeral Home & Cremation Services
145 Innsbrooke Blvd
Murfreesboro, Tennessee 37128
Phone: 615-896-2229
Fax: 615-896-2394
Email: info@murfreesborofuneralhome.com

---