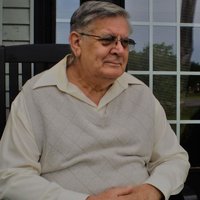 David Bruce Decker
David Bruce Decker, age 71 of Murfreesboro, TN went home to be with the Lord with his daughters Christina and Shannon and granddaughter Alexis by his side.
Mr. Decker was preceded in death by his wife Eileen Decker, also by his parents; Joseph and Mabel Hay Decker.
Mr. Decker is survived by his daughters; Christina (Patrick) O'Halloran of New Jersey, Shannon (Alfred) DeDominicis of Murfreesboro, sons; David (Jennifer) Decker of Colorado, Scott (Jacqueline) Decker of Florida, and 12 grandchildren. David is also survived by brothers; Joe and Steve Decker, sisters; Linda and Wendy Decker and Kimberly Start.
David was a strong simple man, he was a man's man., but there was gentleness in his touch. David had a very giving beautiful servants heart. It was said among family that biblically speaking "you sat at the table alongside Eileen, you served alongside David". What a legacy of faith they have left behind. David was a craftsman, a woodworker; he loved working with his hands… you just have to finesse it… he was a teacher, if you were listening he was teaching; he was a man of few words but he taught just the same. He had a strong love of his country… As he looked out the window of his ICU room, he quietly watched the Veterans Parade outside… Our proud Godly vet gave his final salute, how fitting for him to be received into glory on Veteran's Day. We will miss you Dad! Enjoy the glory of heaven as we picture you and mom as heaven's happy greeters.
David was a member of Mt. Herman Baptist church. Visitation will be Thursday, November 14, 2019 from 5pm – 9pm at Murfreesboro Funeral Home. Funeral services will be Friday, November 15, 2019 at 1pm at Murfreesboro Funeral Home with Pastor Jerry Howard officiating. Burial will follow in Evergreen Cemetery with family serving as pallbearers.
Murfreesboro Funeral Home is honored to serve the Decker family. 615-896-2229.