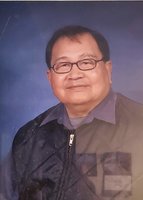 Keung Xayahan
Keung Xayahan, age 87 of Murfreesboro, TN passed away on Monday, November 11, 2019 surrounded by his loving family.
He was preceded in death by his parents; Douangdeng and Syah Xayahan, wife; Khamthanh Xayahan, and daughter; Boungleung McVey.
He is survived by sons; Phoukham Xayahan, Sonesavanh Xayahan, Phouvanh Xayahan, Oaby Xayahan, Angty Xayahan, daughters; Amphone Sikounlabout, Chanthone Spears, Bangon Chandavong, and Vahnly Luanglath.
Visitation with the family will be held at Murfreesboro Funeral Home on Friday, November 15, 2019 from 2pm – 7pm. Services will be held at Murfreesboro Funeral Home on Saturday, November 16, 2019 at 1pm with interment at Evergreen Cemetery.
Murfreesboro Funeral Home is honored to serve the Xayahan family. 615-896-2229.