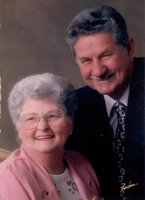 Dorothy Marie Seals
Dorothy Marie Seals, age 91 of Murfreesboro, TN passed away at home on Saturday, August 24, 2019.
Dorothy was born March 17, 1928 in E. St. Louis, Illinois to the late Roy and Hazel Judd Field.
She was also preceded in death by her husband of 65 years, John Seals, daughter; Karon Konley, grandson; Jack Thompson, and a brother; Rev. Roy Field.
Mrs. Seals is survived by her daughters; Sharon (Arturo Vallejos) Lamb, Kathy (Tommy) Tomlinson, Denise King, Laurie (Mark Cleveland) McCaskill, 13 grandchildren, 17 great grandchildren, 1 great grandchild, sister; Virginia (Vernon) Gruenke, and brother; Donald (Jeanette) Field.
Mrs. Dorothy's life commitment was sharing the love of God with children in Sunday School, backyard bible clubs, mission trips around the world and in her everyday life for over 50 years.
She enjoyed gardening, reading, and singing. She was an exemplary mother and wife.
Visitation with the family will be Wednesday, August 28, 2019 from 12pm – 2pm with the funeral service to follow at 2pm at Murfreesboro Funeral Home. Officiating the service will be Pastor David Bramble. Interment will be at Evergreen Cemetery.
Mrufreesboro Funeral Home and Cremation Services 615-896-2229.