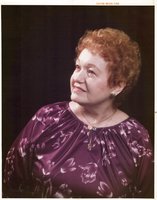 Ila Mae Peoples
Ila Mae Owsley Peoples, age 98 of Murfreesboro, TN passed away Monday, July 22, 2019.
She was born in Winston County, Alabama to the late Kennith Lee and Leanna Carter Owsley. She was married to the late L.D. Peoples Sr. who had two sons; L.D. Peoples Jr.( Gayle) and Kennith L. Peoples (Sandra), three daughters; Betty Gail Harris, Peggy Gean Robinson, and Patricia Lee Mullins. She had 14 grandchildren, 23 great grandchildren and 12 great great grandchildren.
Visitation will be held at Murfreesboro Funeral Home on Friday, July 26, 2019 from 12pm-2pm with services to follow at 2pm in the chapel. Officiating will be John Smith.
Murfreesboro Funeral Home is honored to serve the Peoples family.