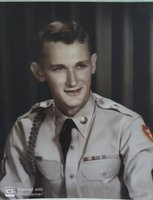 James Coleman Morgan
James Coleman Morgan, age 86, departed this life on July 8, 2019. He was born November 15, 1932 in Fosterville, Tennessee to Harvey Logan Morgan and Nora Shelton Morgan, one of seven children. After graduating from Christiana High School in 1951, he later enlisted in the United States Army and served in Korea from 1953-1955.
On May 12, 1955, he married Nancy Joy Roberts of Wartrace and they moved to Murfreesboro where he was employed by the VA Hospital as Chief of Operations for over 20 years. He loved the Lord and people and served as an elder for Kingwood Heights Church of Christ for many years. In retirement he grew a beard and dressed like Abe Lincoln for schools and events. He and Nancy bought the Morgan family farm and together restored the two hundred year old house.
Coleman is survived by his daughter, Nora Kay Holmes and husband Mitchell Holmes, three grandchildren: Cole Holmes, Holly Winn and Wesley Holmes, and many loving family members and friends.
Visitation will be held at Murfreesboro Funeral Home on Friday, July 12, 2019 from 5pm – 7pm. Services will be Saturday, July 13, 2019 at 10am with Bro. Carter Woodruff officiating.
The family would like to thank all those who loved and cared for him at Carriage House Inn and at The Heart Remembers in Shelbyville. Donations can be made to Shelbyville Public Library for the purchase of children's books.