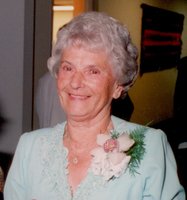 Agnes Nemeth
Agnes Nemeth, December 18, 1924-June 3, 2019.
Agnes was born to Friedrich Kurth and Marguerite Bonn Kurth in Duren, Germany. Married to Josef Nemeth, in 1946, they immigrated to the United States in 1951. A homemaker and mother of four, she lived in the Champaign-Urbana, Illinois Community for 64 years before moving to Murfreesboro, Tennessee in 2015. She was a member of St. Patrick's catholic church in Urbana Illinois for 64 years.
Affectionately known as Mutti, she is survived by her sister, Maria Stingl; Children Ilona (Joe) Kusa of NC, Wolf (Bonnie) Nemeth of Murfreesboro, Robert (Sarah) Nemeth of IL, Mark Nemeth of CA; Grandchildren Matthew Nemeth of AK, Lizzy (Adam) Morgan, Luke (Molly) Nemeth, Mischa (Farra) Nemeth, all of Murfreesboro; Jonathon (Sarah) Kusa of MN; Andrea (Leopold) Toussaint of TX; Great-grandchildren Alex and Eli Nemeth of Anchorage AK; Anna, Will, John Lee and Lucy Morgan of Murfreesboro; Lilly, Lucas, Eva and Willa Nemeth of Murfreesboro, TN; Jack Nemeth of Knoxville, TN; Leo, Lily, Joey, David and Alexis Toussaint of College Station, Texas; Ezra Kusa of St. Paul, MN.
Mutti died peacefully after a brief stay at St. Thomas hospital. Visitation Saturday, June 8 from 2-3 PM. with the funeral service at 3PM. Interment to follow at Miller Cemetery.