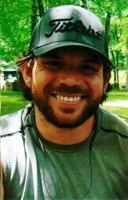 Phillip Michael Booth
Phillip Michael Booth, age 32 of Murfreesboro, TN passed away suddenly on Thursday, May 30, 2019.
He was born March 19, 1987. He is survived by his parents Phillip and Gwen Booth, sister; Amanda (Chris) Booth Dawson, nephew; James Ryan Dawson, girlfriend; Kelly Gipson, grandmother; Annabelle Patton, and many uncles, aunts, cousins, Pike brothers and friends.
He was preceded in death by his grandparents; James and Norma Booth and Dewey Patton Jr.
He was an avid golfer, worked side by side with his daddy and uncle Greg as a carpenter with a Bachelor's degree in Construction Management.
Visitation will be held at Highland Heights church of Christ in Smyrna, TN. on Saturday, June 1, 2019 from 1pm – 3:30pm with service to follow. Officiating will be Bro. Wayne Cornwell. Burial to follow in Mapleview Cemetery in Smyrna, TN.
Pallbearers will be family and friends.
Murfreesboro Funeral Home is honored to service the Booth family. 615-896-2229