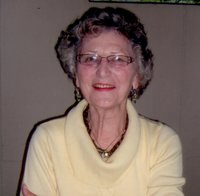 Rosie Olene McCluskey
Rosie Olene McCluskey 83 of Murfreesboro passed away Thursday May 23, 2019. Rosie was born in Rutherford County to Luther H Arnold and Mattie Sue Ferrell Arnold. She was a member of Mt. Hermon Baptist Church for over 60 years. She retired from MTSU.
She was preceded in death by her parents, Luther H Arnold and Mattie Sue Arnold, Husband Joe McCluskey, son Steve McCluskey, siblings Bobby and Michael Arnold. She is survived by her children Mark (Wendi) McCluskey and Brent (Lesia) McCluskey, daughter-in-law Candi McCluskey, siblings, Christine (James) Arnold Rowland, Linda Arnold Goddard and Luther Jackson (Diane) Arnold, grandchildren; Michael McCluskey, Mary Faith McCluskey, Adam McCluskey, Bryson McCluskey, Lauren McCluskey, Gregory McCluskey and Brian McCluskey, 3 great-grandchildren and several nieces and nephews.
Visitation will be Sunday May 26, 2019 from 10 am until 1:30 p.m. at Murfreesboro Funeral Home. Funeral Service will follow at 1:30 p.m. with Bro Jerry Howard officiating at the Funeral Home. Interment to follow at Roselawn Cemetery. Grandsons and friends to serve as pallbearers.