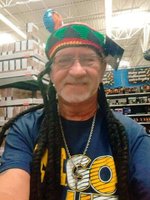 Gary Dennis Wisniewski
Gary Dennis Wisniewski, age 69 of Murfreesboro, TN passed away on Sunday, May 19, 2019.
He was preceded in death by his parents: Ted and Lorraine Carmack Wisniewski and a sister: Sharon Wisniewski.
He is survived by his sons: Gary (Irlanda) Wisniewski II, Chad (Lindsey) Wisniewski, daughter: Lori (Mike) Degalliford, grandchildren: Kaydence, Gabriel, Mia, Ian Wisniewski, Skylar, Savana, Houston, Blake, Brent, Senna, Zavyn, Zaryk, Zion Degalliford, great grandchild: Alayaa Degalliford, brother: Al Wisniewski, cousin: Cheryl Hauler, and Marcie Hauler (She was like a mother to him).
Visitation will be held on Saturday, May 25, 2019 from 1pm – 3pm at Murfreesboro Funeral Home with services to follow at 3pm in the chapel. Dr. George Jackson will be officiating.
Murfreesboro Funeral Home is honored to serve the Wisniewski family. 615-896-2229