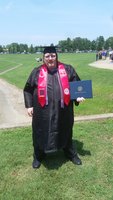 Carl Edward Markline
Carl Edward Markline, age 50 of Murfreesboro, Tennessee passed away on Wednesday, April 10, 2019.
He was preceded in death by his mother: Patricia McElmury Markline.
He is survived by his father: George H. Markline, brothers: Gorge H. Markline II, John L. Markline, sister: Joyce A. Smith, nieces: Hayley Markline, Laura Handley, nephews: Johnathon Markline, Rickey Smith, and fiancée: Laurie Gagnon.
Visitation will be held Friday, May 3, 2019 at Murfreesboro Funeral Home from 2pm – 3pm with services to follow at 3pm in the chapel.
Murfreesboro Funeral Home is honored to serve the Markline family.