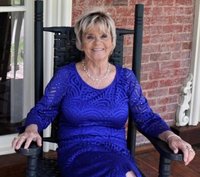 Jimmie Emmanola "Nola" Caudill
Jimmie "Nola" Emmanola Caudill 1946-2019 Murfreesboro, TN. Nola Caudill, age 72 passed away on Thursday, April 11, 2019. She was a native of Lawrenceburg, TN but lived in Rutherford County since 1971.
Nola was a very giving and loving person. She loved her family and friends unconditionally. She loved Elvis, Las Vegas, walking on the beach, and her dog "Lucy". Many people who met her would never forget Nola because she made a lasting impression on everyone she met. She will be dearly missed but never forgotten.
Nola was preceded in death by her husband Joe Caudill, parents, J. W. "Dub" and Marie Brazier. brother Johnny Brazier, and sister Diane Pigg.
She is survived by her sons; Terry (Sherri) and Torrey (Michelle) Caudill,
grandchildren; Charity (Cody) Wall, Amanda (Micah) King, Wesley (Kearsten) Caudill, Madison Caudill, Brianna Caudill, Jessica Heatherly, Amber Rose, Megan Jewett, Brandi Kornguth, Christopher Kornguth and eight great-grandchildren
Visitation will be held Friday, April 12, 2019 from 4-8 pm at Murfreesboro Funeral Home. Funeral Service will be Saturday April 13, 2019 at 1:00 p.m. in the Chapel of Murfreesboro Funeral Home. Interment 4:00 p.m. in Rochelle Cemetery 1341 Arron Branch Road West Point, TN