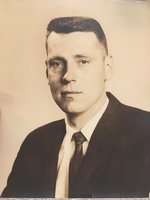 Robert Keeler Sisco
Robert Keeler Sisco, age 90 of Murfreesboro, TN passed away on Friday, March 22, 2019.
He was born June 24, 1928 to the late Burton Nichols and Marion Keeler Sisco. Also preceded in death by his wife: Lorraine R. Philbrick Sisco.
He is survived by his daughter: Lisa Sisco Keener, son: Jeffrey Robert (Avanna) Sisco, grandchildren: William (Rose) Keener, Paul (Jamie) Keener, Katie (Ben) Herron, Jeffrey R. Sisco, great grandchildren: Matthew Keener, Bailee Keener, Brittany Cooper, Peyton Cooper, Bently Herron, Steven Herron, Oliver Sisco, and a brother: Burton A. Sisco.
A memorial service will be held at a later date at Middle Tennessee Veterans Cemetery in Pegram, TN.
Murfreesboro Funeral Home is honored to serve the Sisco family.