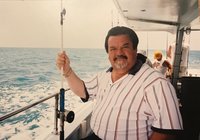 Donnie Lee Bradley
Donnie Lee Bradley, age 72 of Murfreesboro, TN went to be with the Lord on Tuesday, February 5, 2019.
He was preceded in death by his parents: Johnny and Myrtle Sizemore Bradley, son: Charles Smithson Jr., grandson: Tyler Bradley, and a sister: Debbie VanWinkle.
He is survived by his wife of 40 years, Bobbie Bradley, daughters: Sammie (Ricky) Haynes, Kim (Tim) Anderson, April Bradley, grandchildren: Savannah, Haley, Austin, Logan, Bradley, Kelly (Wesley) Gilliam, and Kacy.
Graveside services will be held on Friday, February 8, 2019 at 3:00 pm at Evergreen Cemetery.
Murfreesboro Funeral Home is honored to serve the Bradley family.
Online condolences can be made at www.murfreesborofuneralhome.com 615-896-2229