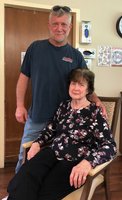 Mary Katherine "Dolly" Lowe
Mary "Dolly" Katherine Lowe, age 75 of Murfreesboro, TN. went home to be with the Lord on Tuesday, January 29, 2019. She was a member of Crescent Church of Christ.
She was preceded in death by her parents: Alley Wayne Sr. and Jessie Pearl Spence Eaton, brother: Bobby Eaton, sisters: Audrey Pearl Arnold, June Wilson, Nancy Eaton.
She is survived by her son: Gary Burton (Kristi) Thomas, granddaughters: Christy (Bill) Stephens, Cindy (Matt) Moore, Heather (Aidan) Hartman, Heidi Stemler, 7 great grandchildren: Brittany, Brandon, Brooklyn, Thomas, Feryn, Hattie, Nora, great great grandchild: Tucker, brothers: AW Eaton Jr, Milan "Pete" Eaton, Larry Eaton, and the love of her life William Kenneth Lowe.
Visitation will be held at Murfreesboro Funeral Home on Friday, February 1, 2019 from 12pm – 1pm with services to follow at 1pm. Interment will be at Evergreen Cemetery.