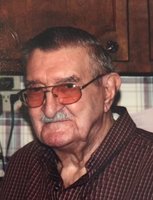 Donald Clyde Shaw
Donald C Shaw, [88], of Murfreesboro, TN, passed away on January 18, 2019.
Funeral services will be held at Murfreesboro Funeral Home on January 23, 2019 at 1:00 with Pastor Kenneth W. Massey of Murfreesboro Missionary Baptist Church officiating. Burial will follow at Roselawn Cemetary, 5350 North West Broad. Visitation will be held at Murfreesboro Funeral Home on Tuesday, January 22, 2019 from 4:00 pm to 8:00 pm and Wednesday January 23, 2019 from 12:00 to 1:00 pm. Murfreesboro Funeral Home will be handling the funeral arrangements.
Don was born in Macon County to Winfred Truman Shaw and Florida Mae Carter Shaw on September 11, 1930. He went to high school at Macon County High School and graduated in 1949. He retired from General Electric Company. After retiring he perfected his technique for refinishing furniture and grew his knowledge of glassware and other antiques. He was one of the 1st five individuals to set up at the first flea market now famous as The Nashville Flea Market. He and his wife Mary (who preceded him in death) traveled locally and sometimes to other states to set up their wares and occasionally deliver furniture to customers who loved their unique furniture pieces. They also maintained a booth at the Antiques Center for years. Their love and knowledge of things of the past made for fascinating discussions. He seemed to never meet a stranger. He was a devoted husband, father, grandfather, brother, uncle and friend.
Don is survived by his daughter, Teresa Smith (Robert) of Murfreesboro; granddaughtersRebecca Hodges (Steven) of Bucyrus, OH, Rachel Garrard (Mark) of Elizabethton, TN; sister Annette Carol Jenkins of Lafayette, TN; great grandsons Jackson Hodges, Braxton Hodges, Landon Hodges, Callon Hodges, Sam Garrard and Luke Garrard; great granddaughters Adrianna Garrard and Emilin Garrard; nieces Tonja (Troy) Russell, Laura Jane (Steven) Benson, Jamie Dallas, Penny (Timmy) Blankenship, Amie (Jason) Ligon, Lula Amiss, Sheila (Bob) Garnett, Tina Tuck, Daphne (Jim) Durham; nephews Adam (Brittany) Shaw, Keith (Lisa) Chitwood, Larry (Debra) Garnett, Tommy (Robin) Dozier, Terry Dozier, Ricky (Brenda) Bandy, Michael (Melissa) Garnett, Steven Bandy, and many great nieces and great nephews. He is preceded in death by his wife, Mary Hollis Bandy Shaw; infant son Jerry Wayne Shaw; parents Winfred Truman and Florida May Carter Shaw; brother Jimmy Carter Shaw; nieces Regina Bandy,
Tammy Wood; nephew Kevin Chitwood.
Memorial donations may be made to his church's building fund Murfreesboro Missionary Baptist Church at 316 Fortress Blvd., Murfreesboro, TN. The family wishes to extend their gratitude to Creekside at Three Rivers for their care for and friendship to Don and the care provided by the staff at Avalon Hospice.