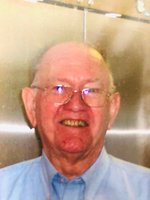 Grady Elroy Anderson
Grady Elroy Anderson, age 86 of Smyrna, Tn passed away on Wednesday, December 12, 2018.
He was preceded in death by his parents: Jimmy Lee and Claty Arnold Anderson, brothers: Dillard Anderson, Jerry Anderson, and sister: Reba McGriff.
He is survived by his loving wife of 65 years, Virginia Anderson, sons: David Ray Anderson, Darryl Joel (Melanie) Anderson, grandchildren: Phillip Anderson, Daniel (Lacey) Anderson, Sabrina (Dorian) Cohen, Ben Anderson, Eric Anderson, great grandchildren: Dylan Anderson, Amelia Anderson, brothers: Don Anderson, Lynn Anderson, sisters: Bertha Shelton, Annell Black and Jeannie Freeze.
Visitation with the family will be Friday, December 14, 2018 from 4pm – 8pm at Murfreesboro Funeral Home. Services will be Saturday, December 15, 2018 at 12pm in the chapel with interment at Mapleview Cemetery in Smyrna, TN. Pastor Lynn Anderson will be officiating.
Murfreesboro Funeral Home is in charge of the arrangements.