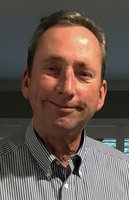 Michael Ramsey Conklin
Michael Ramsey Conklin, 65, of Murfreesboro died at home on Monday, June 4, 2018.
He is survived by his wife of 21 years, Brada McMahan Conklin; brother Jimmy (Sharon) Conklin; brother Tim Harris; sister Becky (Scott) Owen; son Daniel Conklin; grandson Hayden Smith; brother-in-law and sister-in-law Barry and Rhonda McMahan; aunt Sarah McClarin; cousin Phil (Sarah) McClarin; cousin Greg McClarin; cousin Robert (Jewell) Ramsey; cousin Mairlyn Brady; and the Pugh family. On Brada's side, Mike is survived by her sons Jerry (Julie) Eaton and Jeff (Angie) Eaton; Mike was "Papa Mike" to Sara, Drew, Emily and Conner. Mike is also survived by Molly, the sweet Yorkie who will miss sitting on her Daddy's lap.
Mike enjoyed life surrounded by family and friends, especially his and Brada's friends in Murfreesboro's Indian Hills golf community. They occasionally hit the golf course, but both enjoyed the beach more, and they traveled to enjoy sun and sand whenever they could. Mike also enjoyed time spent with his brothers, Jimmy and Tim, and his cousins.
Mike had just retired in February as an account executive with food-service distributor Sysco Nashville, so the retirement he had looked so forward to was short-lived. Nonetheless, Mike would be the first to say he lived a life filled with joy and fun.
Mike was preceded in death by his parents, Russell Hunt and Mary Ann Ramsey Conklin, and grandparents, Bob B. and Mary Ramsey.
A celebration of Mike's life will be Friday, June 8, at 1 p.m. in the chapel of Murfreesboro Funeral Home, 145 Innsbrooke Blvd. in Murfreesboro, with Brother John Magnuson officiating. Visitation with the family will be from 11 a.m. to 1 p.m. Pallbearers are Phil and Greg McClarin, Barry McMahan, Tim Harris, P.D. Mynatt and Ralph Blackwell.
In lieu of flowers, please consider a donation to the American Lung Association or Alive Hospice of Murfreesboro.
Murfreesboro Funeral Home is in charge of the arrangements.