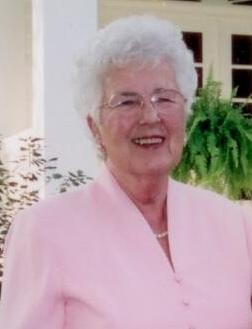 Obituary of Eva Christian
Eva S. Christian from Jacksonville, Illinois, 91, passed peacefully on Saturday, May 13, 2017 at St. Thomas Rutherford Hospital Murfreesboro, Tennessee.
A retired registered nurse, Eva was born August 23, 1925 in Camden, Schuyler County, Illinois, the eldest daughter of Clifford and Golda Cady Ridings. Eva and Reverend Jack Christian started out in Alaska as Missionaries and founded and built the churches at Willow and Trapper Creek, as well as ministering to the communities and congregations at those churches from 1981 to 1986.
She was predeceased by her parents, her brother, Guy Dale Ridings and her 3 husbands: Rev. Jack Christian, John Snyder and Keith Croxton.
She is survived by 5 children: Karen Croxton, David Croxton, Stephen Croxton, Bonnie Nemeth (Wolf) and Jean Snyder-Kull (Werner), 7 Grandchildren, Matt Nemeth (Mari), Lizzy Morgan (Adam), Luke Nemeth (Molly), Mischa Nemeth (Farrah), Stephan Boyreau, Mark Croxton (Heather), Matt Croxton, 13 Great Grand Children and her two sisters, Phyllis Gayle Baxter and Janice Elaine Gregory.
Visitation will be held on Wednesday, May 17, 2017 from 7PM until 8PM at Murfreesboro Funeral Home with the funeral service to follow at 8PM, Murfreesboro, Tennessee. Graveside services will be held on Thursday, May 18, 2017 at 4PM at Huntsville Cemetery in Huntsville, Illinois.
Murfreesboro Funeral Home is in charge of the arrangements.