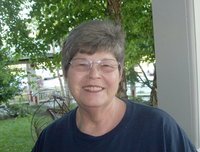 Sandra Kaye Blanton
Sandra Kaye Blanton age 73, of Murfreesboro, passed away Thursday, April 5, 2018 at St. Thomas Rutherford Hospital.
She was preceded in death by her parents: William and Pauline Duke Blanton.
Survived by her son: Bubba (Patty) Loyd, daughter: Liz (Mike) Sterba, grandchildren: Brittney, Sam, and Matt Loyd, Ashley and Zachary (Mandy) Kubiak, and great grandchildren: Kaylee Kubiak and Anna-Kay Loyd.
Visitation will be held Monday, April 9, 2018 from 4-6pm at Murfreesboro Funeral Home with a Celebration of Life to follow at 6pm in the chapel. Officiating will be Bro. Dwight Bennison.
Murfreesboro Funeral Home is honored to service the Blanton Family.