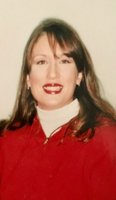 Melissa Ann Presley
Melissa Ann Presley age 44 of Murfreesboro, passed away on Wednesday March 28, 2018. A native of Rutherford County, she is preceded in death by her father; Jack Cunningham.
Mrs. Presley is survived by her loving husband of 24 years; Steve, sons; Matthew (Salena) Presley, Jackson Presley, her mother; Betty Cunningham Rose all of Murfreesboro, sister; Jennifer (Troy) Ball of Christiana and many Aunts, Uncles, and Cousins.
Mrs. Presley was a member of Third Baptist Church. Visitation with the Presley Family will be Monday from 4:00PM until 8:00PM at Murfreesboro Funeral Home. Funeral service will be 11:00AM Tuesday at Murfreesboro Funeral Home with Steve Hutson officiating. Burial will follow at Evergreen Cemetery with family and friends serving as pallbearers. In lieu of flowers, memorials may be made to the Presley Family in Care of Murfreesboro Funeral Home. Online guestbook is available at www.murfreesborofuneralhome.com
Murfreesboro Funeral Home is honored to serve the Presley Family.