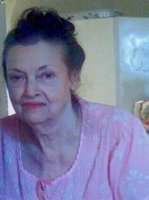 Olene Ethel Langford
Olene Ethel Langford
On Tuesday, February 27, 2018, Olene Ethel Langford of Murfreesboro and Lynchburg, Tennessee. beloved mother, grandmother and sister passed away following complications from pneumonia.
She is survived by her 2 children Neil Wesley Langford, Lynchburg, Tennessee and Cynthia Langford O'Conner (spouse William), Falls Church, Virginia; 6 grandchildren Jonathan Wesley Langford, Susannah Eloise Langford, Danielle Elizabeth Langford, Joseph Brock Langford, Rebekah Charis Langford of Tennessee and William E. O'Conner IV of Falls Church, Virginia. She is survived by her 2 siblings, William B. Eads (spouse Judy) and Sandra Eades Donham.
Born December 13, 1939 in Rutherford County, Tennessee to Suzie Kay and Hollis Eades. She is preceded in death by her husband of 31 years, Neill Wesley Langford, her parents, sisters Betty Eades, Emma Duke, brother, Joseph Eades, and a grandchild James Langford.
She was a graduate of Walter Hill High School. She retired from Jack Daniel Distillery. In 20s and 30s she worked at Red Stone Arsenal and later for her sister, Betty Sanders at Bank Head Kindergarten in Huntsville, Alabama.
Visitation will begin at 9:00AM Friday until time of service at 10:00AM at Murfreesboro Funeral Home. Interment will follow in Eades Family Cemetery in Murfreesboro, Tennessee.
Murfreesboro Funeral Home is honored to serve the Langford Family.