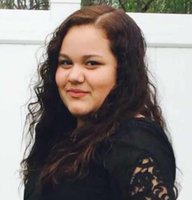 Cecilia Kristine Vasquez
Cecilia Kristine Vasquez, age 13 of Murfreesboro, passed away Monday, February 12, 2018. She was born in Murfreesboro, Tennessee.
She is survived by her parent's, mother: Melissa Pylman, father: Obispo Santiago, sister: Lea Vasquez, grandmother: Shannon Goring, grandfather: Antonio Vasquez, grandmother: Crispina Vasquez and several loving aunts, uncles and a host of many friends.
Cecilia was an 8th grader at Oakland Middle School.
Visitation will be held Monday, February 26, 2018 from 11 am – 2 pm at Murfreesboro Funeral Home. Funeral services will follow at 2:00pm. Officiating the services will be Decon John D'Amico and John Grimmett. Burial will follow at Evergreen Cemetery with family and friends serving as pallbearers.
Murfreesboro Funeral Home is honored to serve the Vasquez family.