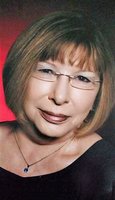 Elizabeth Faye Elliott Buff
Elizabeth Faye Elliott Buff, age 63, passed away on Thursday, February 8, 2018 with her loving family by her side. A native of Rutherford County, Tennessee, Elizabeth was born on November 1, 1954 to the late Eddie "Ed" and Sara Webb Elliott.
Elizabeth was a member of Sugar Hill Baptist Church in Marion. In 1988, she joined her husband, Wayne, and together they opened Quality Plastics off of Rutherford Road in Marion where she remained up until her recent retirement. Not for recognition, Elizabeth would help anyone in need. She was a very caring and generous person, and loved her family, church family and her dog. Elizabeth also loved to travel and always had somewhere to go.
She is preceded in death by a brother, Claude Elliott.
Left to cherish her memory are her husband, Wayne Buff; one daughter, Jodi Byerly (Craig); three brothers, Cecil Elliott (Rosemary), Charlie Joe Elliott (Karen) and David Elliott (Nelly); one sister-in-law, Donna Stepp; a "special sister", Becky Decker (Jeff); "special parents", Bill Lytle (Carolyn) and special friends, Diane Eubank and Pastor Michael Robinson and wife Lisa and his family. Also surviving Elizabeth are three grandchildren, Tyler Williams, Andrew Byerly and Turner Williams; three nephews, Scott (Stacy), Chad (Lora), and Shawn and all their children; one niece, Jennifer (Todd), and their family; along with many cousins.
A funeral service to celebrate Elizabeth's life will be held on Monday, February 12, 2018 at Sugar Hill Baptist Church in Marion at 2:00 p.m. with Pastor Michael Robinson officiating. The family will receive friends from 12:30 p.m. until 2:00 p.m., prior to the service, at the church.
A celebration of her life will also be held on Wednesday, February 14, 2018 at 1:00 p.m. at Murfreesboro Funeral Home in Murfreesboro, Tenn. Interment will follow at Rose Lawn Memorial Garden. The family will receive friends from 11:30 a.m. until 1:00 p.m., prior to the service, at the funeral home.
Beam Funeral Service & Crematory is assisting the Buff family. For further information and/or to sign the online guestbook, please visit our website,www.beamfuneralservice.com , or by calling (828) 559-8111 Murfreesboro Funeral Home 615-896-2229