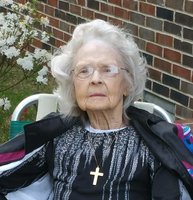 Edith Bryan McDaniel
Mrs. Edith Bryan McDaniel, age 96 of Warren County, Tennessee, passed away January 26 at her residence. She was a residence of Birmingham, AL around 40 years before returning to Warren County, TN in 1981. She attended Morrison Methodist Church.
Mrs. McDaniel is preceded in death by her loving husband Melvin T. McDaniel of Arab, AL; parents, Jesse P. Bryan & Ella Jacobs Bryan of Warren County, TN, 4 brothers & 3 sisters.
She is survived by a son, Carl McDaniel of Nashville TN; sister Dortha Igou(Houston); sister-in law, Callie Bryan; in-laws Tula Romine, Bonnie Wiekamp(Gerald), Barbara Riddick, Delauris Spivey; numerous nieces and nephews.
Visitation will be held on Sunday, January, 28, 2018 from 11am-1pm with funeral services to follow at 1pm at Coffee County Funeral Chapel.
Private burial will be in Arab, AL.
The family would like special thanks & gratitude for Gail Smith for years of her devoted and loving care.I
n lieu of flowers please make a donation Avalon Hospice or American Cancer Society.
Murfreesboro Funeral Home is in charge of the arrangements.