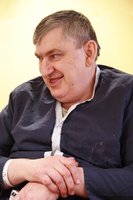 Robert Charles Stover
Robert Charles Stover age 65 of Murfreesboro, passed away Saturday January 6, 2018. Born March 26, 1952 in Reading, Pennsylvania he was the son of the late Robert Stover. He is also preceded in death by a sister, Anne Alsup and a nephew, Ray Alsup. He was a Yeoman in the U.S. Navy.
Mr. Stover is survived by his mother, Mary Lou Stover, brothers: Jerry Stover, Ronald Stover, sisters: Cathy Rauenzahn, Chrissy Stover, Dianne Stover and nieces and nephews: Brianna, Tracey, Bob, Michael, Sarah, Cassy and brother-in-law: Stevan Alsup.
Visitation will be Thursday January 11, 2018 from 11:00AM until 1:00PM at Murfreesboro Funeral Home. A memorial service will be Thursday 1:30PM until 2:30PM at the Tennessee Veteran Home Chapel Building 8 ground floor at Alvin C. York Medical Center with Chaplain David White officiating. Interment will be 3:00PM Thursday at Alsup Family Cemetery.
The Stover family request that house plants and flower bulbs be sent to remember their loving son, brother and uncle. Murfreesboro Funeral Home is honored to serve the Stover family. www.murfreesborofuneralhome.com