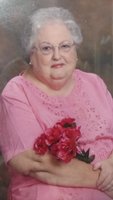 Anna Bess Rochfort
Anna Bess Rochfort, age 75 of Murfreesboro passed away on Saturday, December 30, 2017.
She was a member of Unity Freewill Baptist Church in Murfreesboro, TN. She was a graduate of the School of The Ozarks in Branson, MO.
She is preceded in death by her parents: Berlin and Mary Sharp Prewitt, and a brother: Larry Prewitt of Battleground, WA.
She was survived by her sons: Kevin (Marcy) Rochfort of Smyrna, TN and Kelly(Stacia) Rochfort of Pasco, WA., granddaughter: Kaleigh Rochfort, sisters: Judy (Alen) Pargeter of Chandler, AZ, Jane Fleming of Murfreesboro, TN, Susan Pennington of Bradyville, TN, sister-in-law: Judy Prewitt of Austin, TX. and numerous nieces, nephews, great nieces and great nephews.
A Celebration of Life will be held on Satuday, January 6, 2018 at 3:00pm at Unity Freewill Baptist Church.