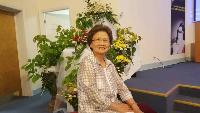 Jae Soon Lee
Jae Soon Lee, age 76 passed away Saturday, April 1, 2017.
Preceded in death by her husband, Song Oak Kim and daughter Young Sok Kim.
Survived by daughters LeAnna Pardon and Young Son Kim; son-in-law Eddie Pardon; grandsons Ashton (Lauren) Pardon and Yong Hyon Cho; granddaughters Eun Ji Cho and Yo Jin Cho; great grandchild Robin Pardon.
Visitation with the family will be held Tuesday, April 4, 2017 from 11:00 am until 1:00 pm at Murfreesboro Funeral Home with funeral service to follow at 1:00 pm. Interment at Evergreen Cemetery.
Memorials can be made to Siloam Health, 820 Gale Lane, Nashville, TN. 37204 or siloamhealth.org/give